left
Demolition
Deconstruction and refurbishment preparation
The modern construction project requires a contractor that will work with clients and stakeholders to deliver a safe, cost effective, on programme service with minimal impact to the environment leaving only a positive legacy for the community and surrounding area allowing new development and regeneration to take place.
We believe this requires not only a high degree of planning and innovation to overcome the technical challenges but also a careful, selective and co-ordinated approach, working with the local community, government agencies and others to achieve the desired outcome.
Wring Group Ltd has many years' experience and excellent industry knowledge; this teamed with a highly dedicated and skilled workforce enables the Company to complete even the most complex and challenging of projects successfully.

Demolition & soft strip
Demolition, strip out and enabling works are all part of the refurbishment and regeneration of our landscape.
Shopping and city centre complexes
Tower blocks and multi-storeys
Railway sidings and stations
Factories and warehouses
Schools and hospitals
Steel and gas works
Bridges and docks
Power stations

Supporting services
In addition to demolition and strip out, we provide a range of associated services including:
Emergency response to fire, flood or accident damaged buildings
Site remediation
Bulk earth works
Site clearance
Excavation and temporary works
Concrete crushing and recycling of aggregate
Decontamination

Temporary Works
A specialist design team create solutions for what are often complex and challenging situations. Support and or stabilise:
Adjoining properties
Façades
Basement walls
Remaining structures
Shoring systems
Scaffolding
Site hoarding, perimeter fencing
Piling mats
Asbestos Removal
Asbestos kills more people than any other industrial hazard - to remove it safely you need experienced, specialist professionals.
Asbestos can be a highly dangerous material if not managed, removed or handled correctly. It had been widely used in the construction industry since the early 1900's because of its strong fibres which are resistant to heat and chemicals, historically it was used in insulation board, cements, coatings, heating systems and electric storage heaters to name but a few. Unfortunately these fibres, though useful, can be harmful if breathed in and need to be handled and removed by trained professionals. If an asbestos containing material is damaged or disturbed the released particles are of such a size and type that they can become embedded in the lungs. Over time these trapped fibres damage the lung tissues, causing scarring and can potentially become fatal.
right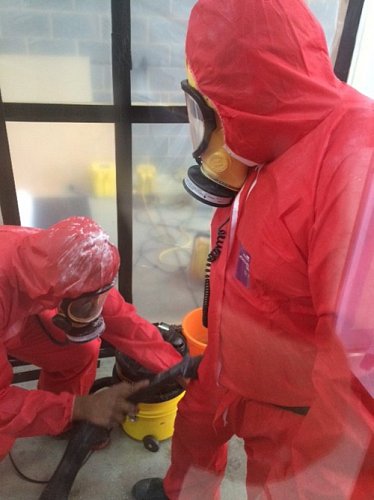 The Safe Solution
Wring Group Ltd's Asbestos and Environmental Services Division is fully licensed by the Health and Safety Executive to survey, remove and safely dispose of asbestos containing material. The Company has dedicated teams of specially trained and experienced personnel who work both with the demolition operatives, clearing and preparing the buildings prior to demolition or as stand-alone operators removing asbestos containing materials from commercial, industrial and private properties to enable continued safe use.
Wring Group Ltd also has a dedicated Response Team who can react quickly in the event of fire, flood or when previously unidentified asbestos is discovered, mobilising to site in order to make safe the area until it can be removed under controlled conditions.
If you wish to discuss a project or would like further information, please contact our Asbestos Team who will be happy to help.
T: 0117 923 1320 E: asbestos@wringgroup.co.uk